Specifications
Supercharged by

Astonishing performance. Incredibly advanced displays. Superfast wireless connectivity. Next-level Apple Pencil capabilities. Powerful new features in iPadOS 16. The ultimate iPad experience.
M2 chip.
Next-generation performance
M2 chip.
The M2 chip is the next generation of Apple silicon, with an 8‑core CPU that delivers up to 15% faster performance and a 10‑core GPU that provides up to 35% faster graphics performance.1 With a 40% faster Neural Engine to accelerate machine learning tasks and 50% more memory bandwidth, M2 brings astonishing performance and new capabilities to iPad Pro. So you can create photorealistic 3D designs, build intricate AR models and play games with console‑quality graphics at high frame rates faster than ever. All while enjoying all‑day battery life
A complete movie studio in your hands.
The high‑performance media engine on M2 accelerates ProRes encode and decode. So you can convert video projects to ProRes up to 3x faster than before.
ProRes video capture.
Now for the first time you can capture ProRes video, using the high-performance media engine and image signal processor on M2 and advanced cameras on iPad Pro. Five studio‑quality microphones and four‑speaker audio with support for Dolby Atmos let you record and deliver theatre‑like sound.
32.77 cm (12.9″)
Liquid Retina XDR display. Best and brightest.
Extreme dynamic range on the 
12.9-inch

 iPad Pro.4

The Liquid Retina XDR display delivers true-to-life detail with a 10,00,000:1 contrast ratio, great for viewing and editing HDR photos and videos, or enjoying your favourite movies and TV shows. It also features a breathtaking 1,000 nits of full‑screen brightness and 1,600 nits of peak brightness along with advanced display technologies like P3 wide colour, True Tone and ProMotion. And you can use Reference Mode for a more colour-accurate workflow.
full-screen brightness
peak brightness (HDR)

for comfortable viewing

contrast ratio

adaptive 120Hz refresh rate

wide colour gamut
To achieve extremely high brightness, we used an array of LEDs across the entire back of the display. To fit them in the incredibly thin iPad Pro, we used custom‑designed mini‑LEDs that are 120 times smaller than in previous generations. Custom‑sized optical films and diffusers mix the light more efficiently and fit in a design that's just 6.4-millimetre thin.
Mini‑LEDson iPad Pro
Local dimming zones.
Over 10,000 mini‑LEDs are grouped into more than 2,500 local dimming zones. Depending on the content, the brightness in each zone can be precisely adjusted to achieve an astonishing 10,00,000:1 contrast ratio. Even the most detailed HDR content with the finest specular highlights — like galaxies and action movie explosions — are more true to life than ever.
Local dimming zoneson iPad Pro
27.96 cm (11″)
Liquid Retina display.
Pixel‑perfect portability.
Easy on the eyes. Easy to carry.
The Liquid Retina display on the 11‑inch iPad Pro is not only gorgeous and portable, it also features incredibly advanced technologies .Like ProMotion, True Tone, P3 wide colour and ultra-low reflectivity, which make everything feel responsive and look stunning.
peak brightness

for comfortable viewing

adaptive 120Hz refresh rate
iPadOS.
Expand what's possible.
Enhanced ways to work.
iPadOS 16 gives you powerful new ways to do more than ever. New desktop-class apps make your workday more productive. Resize and overlap apps to multitask like a pro with Stage Manager. And hook up an external display, with resolutions up to 6K, for even more room for all your apps.
Cameras.
Capture and connect.
On a deeper level.
Front-facing camera.
iPad Pro features an Ultra Wide camera with a 12MP sensor and a 122‑degree field of view, perfect for capturing photos and video for social posts, FaceTime calls with Centre Stage or epic Portrait mode selfies. And it works with the TrueDepth camera to securely unlock iPad Pro with Face ID.
Ultra Wide camera

TrueDept

unlocks iPad with Face ID
Centre Stage.
Using the Ultra Wide camera and machine learning, Centre Stage changes the way you participate in video calls. As you move around, it automatically adjusts to keep you centred in the frame. When others join in or leave the call, the view expands or zooms in. Centre Stage works with FaceTime and other video conferencing apps for an even more engaging experience.
Pro cameras.
Advanced Wide and Ultra Wide cameras help you capture the perfect photo or video. And now with support for ProRes video capture, iPad Pro is a complete mobile video studio. The more powerful ISP in the M2 chip also supports Smart HDR 4, so photos shot on iPad look even more true to life.
Wide camera

Ultra Wide camera
LiDAR.
The LiDAR Scanner measures how long it takes light to reflect back from objects, so it can create a depth map of any space you're in and unlock immersive AR experiences. And it works with the powerful ISP to more accurately focus images and videos in low‑light conditions and reduce capture time.
Polycamusing LiDAR on iPad Pro
Planner 5Dusing LiDAR on iPad Pro
Wi‑Fi 6E and cellular connections.
Fast friends.
Blazing‑fast connections.
iPad has always been uniquely portable with superfast Wi‑Fi and cellular options. With Wi‑Fi 6E, you've got the fastest wireless connection available. So you'll get faster transfers of photos, documents and large video files.
Magic Keyboard. Apple Pencil.
Endless possibilities.
Pro accessories.
Apple Pencil, Magic Keyboard and the Smart Keyboard Folio open up even more ways to use iPad Pro. Draw a masterpiece, take notes or knock out a business plan. These versatile accessories are designed to take your work and creativity to the next level.
Apple Pencil.
With the power of Apple Pencil (2nd generation), iPad Pro transforms into an immersive drawing canvas and the world's best note‑taking device. It sets the standard for how drawing, marking up documents and even filling in text fields should feel — intuitive, precise and magical.
ProcreateiPad Pro with Apple Pencil used on Procreate app
A new dimension of Apple Pencil.
Apple Pencil hover shows you exactly where your Apple Pencil will touch down on your display. So you can write, sketch and illustrate with even greater precision. Watch apps and widgets expand on the Home Screen as you move over them. Preview your mark before you make it. See how your watercolours mix before you paint. Apple Pencil hover makes everything you do with Apple Pencil even more effortless.
When Apple Pencil hovers over the display, electromagnetic signals emitted from the tip are detected by the screen up to 12 millimetres away. M2 instantly interprets those signals and determines the position of Apple Pencil in three dimensions.
12 mm Apple Pencil held 12mm above the surface of iPad Pro, which detects its electromagnetic signals.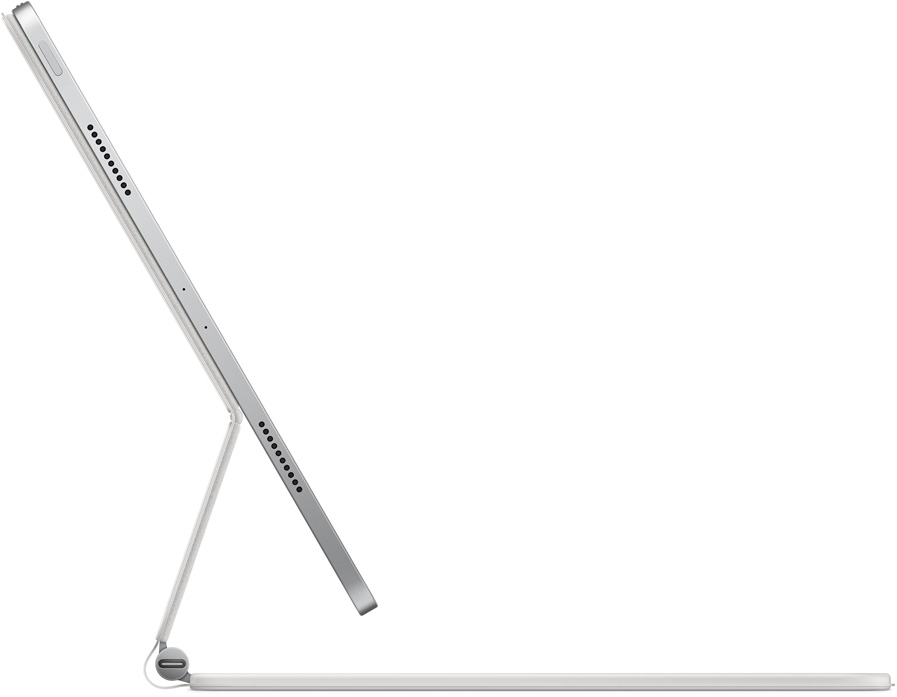 Magic Keyboard.
Magic Keyboard features a responsive typing experience and a built‑in trackpad that gives you many more ways to work with iPadOS. So you can write your novel, crank out an assignment or rip through your inbox. And with backlit keys, you can get things done in any light Swift PlaygroundsiPad Pro with Magic Keyboard displaying Swift Playgrounds app
Amazing apps for every workflow.
Built-in and App Store apps.
Do amazing things with incredible apps designed specifically for iPad. iPad Pro comes with essential Apple-designed apps like Safari, Messages and Keynote. And over a million more apps are available on the App Store.
Use AR to view the new iPad Pro and Magic Keyboard.
Open this page using Safari on your iPhone or iPad.
Apple is carbon neutral. And by 2030, all of our products will be too. We're committed to one day sourcing 100% recycled and renewable materials across our products and packaging, all with clean energy and no carbon footprint.
Like every Apple product, iPad was designed with your privacy and security in mind. It's not always easy. But that's the kind of innovation we believe in.
Technology is most powerful when everyone can use it. That's why iPad comes with accessibility features that support vision, hearing, mobility and learning needs.
Explore keyboards, cases, covers, Apple Pencil, AirPods and more.